Message from Management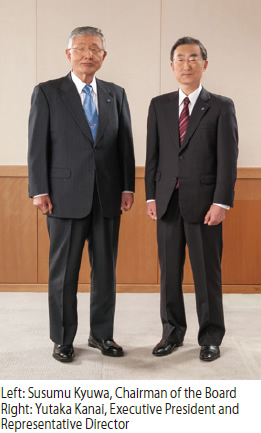 Circumstances surrounding the electricity business are in the midst of a number of changes, including a series of institutional reforms for the full liberalization of the retail electricity market in Japan and the accomplishment of the electricity system reform. Against this backdrop, we aim to make the Hokuriku Electric Power Group an organization that will serve as your trustworthy and chosen partner through the steady engagement of every one of us in our initiatives based on our Group's CSR philosophy and code of conduct, and by rapidly addressing various issues.
We Aim to Achieve an Early Restart of Shika Nuclear Power Station
In order to continue fulfilling our social mission of ensuring a stable supply of low-cost, high-quality energy, our first aim is to quickly resume operation of Shika Nuclear Power Station. In addition to taking appropriate actions in relation to the resumed review on conformity to the regulatory requirements concerning the fault lines at the site, we will make every possible effort to gain the understanding of the people in the local communities through careful explanations of safety, while making steady progress on safety improvement work.
We Strive to Ensure a Stable Supply of Electricity and Reduce Carbon Emissions from Power Generation
As a result of the suspended operation of Shika Nuclear Power Station, our hydroelectric and thermal power stations continue to operate at high utilization rates. Amid these circumstances, as a responsible power company, we make continued efforts to deliver a stable supply of electricity, by implementing every possible measure, such as the coordination of regular inspection schedules, as well as steadily working to maintain the functions of distribution facilities.
At the same time, we promote the increased introduction of renewable energy sources, including water power, while proceeding with the construction of the LNG-fired Unit 1 of Toyama Shinko Thermal Power Station, for further diversification of generation resources and reduction of carbon emissions.
We Respond to Customer Needs More Properly
To be chosen by consumers in the highly competitive environment following the full liberalization of the retail electricity market, we continue to work to improve managerial efficiency on the precondition that safety is of the highest priority, as well as actively providing more and more attractive services and promoting community-based business activities. In addition, by conducting our comprehensive energy business through the best possible use of our Group's management resources, we respond to customer needs more properly.
We Continue our Efforts to Earn the Trust of People in the Hokuriku Region
Ever since Hokuriku Electric Power Company was established in May 1951 with the support of the Hokuriku region, our steadfast commitment to contribute to the development of the region through our electric power business has run deep in our corporate culture.
We continue striving to establish and maintain the trust and reliability as a company rooted in the Hokuriku region that lead us to be chosen by consumers, by holding interactive discussions with people in the region, carrying out environmental preservation activities, and proceeding with other efforts, while endeavoring to both further deepen the culture of safety that we have developed and improve our company-wide quality of operations and services.

We at the Hokuriku Electric Power Group will continue to practice CSR management, with every employee earnestly listening to the voices of our stakeholders.