To Ensure Stable Supply of Electricity
Efforts for stable supply in the future
Steady promotion of construction project of LNG-fired power generation facility
Hokuriku Electric Power Company will replace the coal-fired Unit 1 of Toyama Shinko Thermal Power Station and introduce its first combined-cycle power generation facility that uses liquefied natural gas (LNG) as the fuel that can significantly reduce CO₂ emissions. It will contribute to realization of a low carbon society by ensuring stable supply through further diversification of generation resources and further reduction of CO₂ emissions. Installation of power generation equipment (boilers and turbines) will be underway in earnest in FY2016 and we will steadily proceed with the construction work for the start of operation in November 2018.
In addition to that, we will advance the preparation for stable procurement of LNG fuel at a lower cost and replacement of the oil-fired Unit 2 of Toyama Shinko Thermal Power Station with an LNG-fired generator.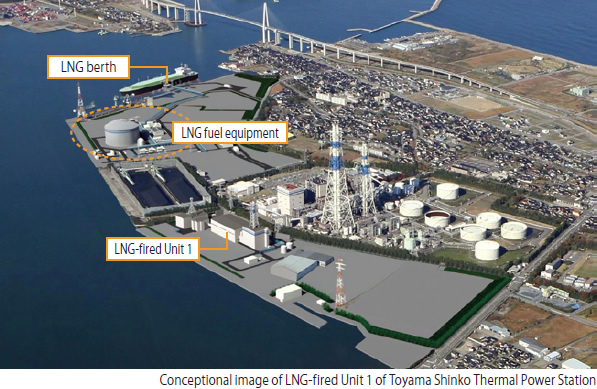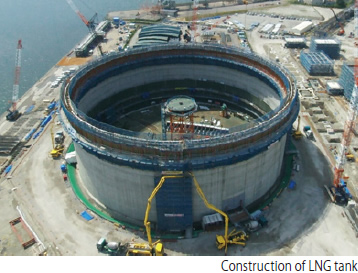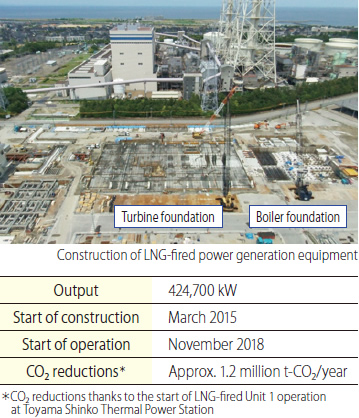 Ensuring of supply capability and reinforcement of risk management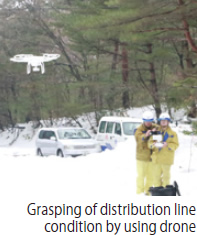 In order to achieve the mission of stable supply, we ensure supply capability, take steps on our facilities and equipment, and conduct disaster prevention trainings in preparation for various risks such as shutdown of large-capacity power sources, large-scale disasters, extreme weather events, etc.
Implementation of measures for maintaining power transmission and distribution equipment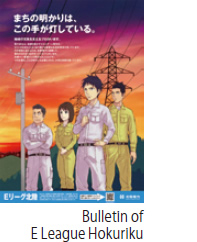 We conduct maintenance, management and operation work for power transmission and distribution equipment. Also, because replacement work for the facilities and equipment installed in the high-growth period of the Japanese economy will reach a peak, we level long-term replacement plans and to ensure our work execution system for maintaining equipment functions.
Approaches to efficient use of electricity
Installation and effective use of smart meters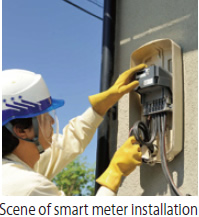 We install smart meters in a well-planned manner at all houses of our customers by March 2024.
We utilize smart meter functions that contribute to efficient use of electricity for improvement of our customer service.