Procedure of Registration
Overview of our registration system
Suppliers have to be registered in advance.
We procure various kind of products. We adopt Supplier Registration System, in order to avoid evaluating suppliers' technical capacity and company management at each time of procurement.
Types of Registration are as follows.
Procurement for Electric Power equipment.
(Machinery materials or safety products related to generation, transformation, transmission, distribution, transmission control or communication)
Registration made for Each Item
Procurement for products other than Electric Power equipment.
(Furniture office goods,grease,motor vehicle,print,medicine,sundry goods)
Registration made as company
Agent Service for procedure of contract.
* We purchase Electric Power Equipment only from registered suppliers for the item.
Procedure of registration
Registration procedure is made as follpows.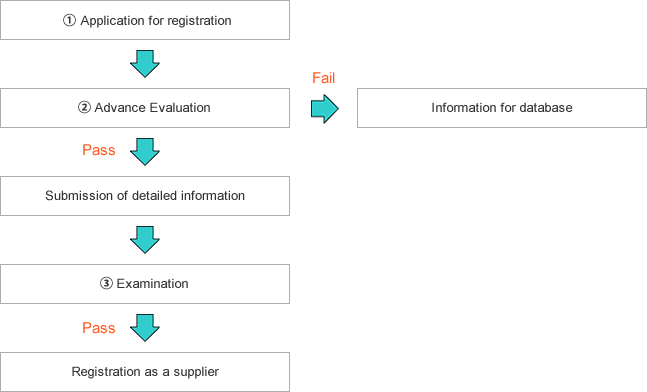 1.Application for the registration
Suppliers requesting registration need to make application in accordance with 'Application of registration and estimate'.
2.Advance Evaluation
After receiving your application, we evaluate the future possibility of our purchase of your product.
In case of difficulty in accepting your offer as a result of evaluation, we may reject it. In such case, we will pool your information to our database as our reference of the future procurement.
3.Examination
In case that there would be possibility for future business transaction with you, we will request further detailed information for the regestration with future trade possibility.
We will examine your technical capacity, company management or acquisition of legal qualifications based upon the submitted information.
After passing the examination, we will resister you as a supplier.
Procurement procedure
Please e-mail or fax to the following address through your Japanese agent after you or your agent write down necessary items in the 'Application Form of registration and estimate(Japanese version)'.
After we finish our advance evaluation, we inform you of its result by e-mail or telephone. In addition, if there would be possibility of business transaction, we request you to submit the detail documents which are necessary for the examination.
(Notice) If you would hope business transaction through an agency, registration of your agency is necessary.

It normally takes from several days to one month for the examination. However, we would like you to be patient in case it takes several months according to the contents of your application.
---
Procedure of Contract
For further information or questions on our procurement procedures, please contact us.