Procedure of Contract
Procurement procedure
Procedure of contract is basically as follows.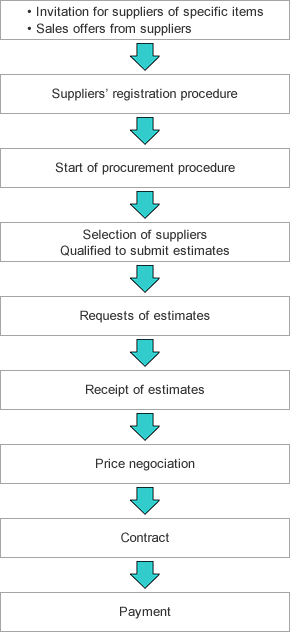 Estimates
Our procurement procedure is basically made through a competitive bid.
We basically select more than one company to receive estimates among registered suppliers.
We may select only one supplier in case of emergency, requiremant of special technique or related to exclusive right such as patent issues.
Contract
After reaching agreement on contract price, we will make a contract. Upon making the contract, we will agree on details of conditions of payment, indemnification or hidden defect.
Details of the contract are basically drawn up in the form prescribed by us.
Payment
After the delivery of your product, we will inspect if it is in accord with specification. (Inspection Approval)
After inspection approval, the ownership of the delivered product will be transfered from the supplier to us.
Payment will be made by the end of the month following the month in which inspection approval is completed.
---
Procedure of Contract
For further information or questions on our procurement procedures, please contact us.
address
15-1, Ushijima-cho, Toyama 930-8686, Japan
fax
81-76-405-0117
e-mail
shizai@rikuden.co.jp