Steady Implementation of Safety Measures
In order to further improve the safety of Shika Nuclear Power Station, we continue to work on various measures, including strengthened fire protection for the central control room, taking account of the review statuses and results for other companies and other factors. We steadily continue to implement the safety improvement works, and take appropriate actions in relation to future reviews on conformity to the regulatory requirements, with the goal of an early restart of Shika Nuclear Power Station.
Whole picture (image) of safety measures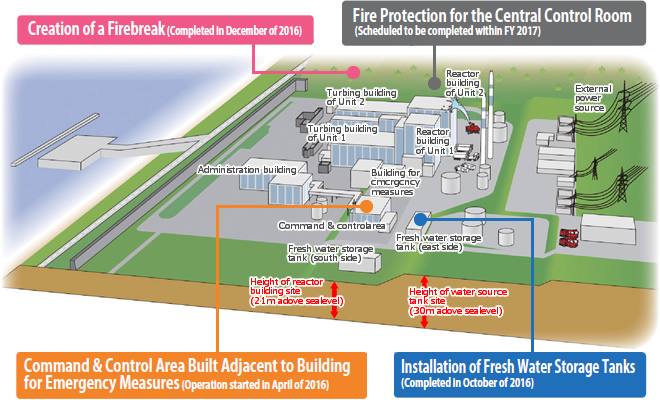 Details of safety measures
Safety measures
---

Creation of a Firebreak (Completed in December of 2016)
A firebreak (approx. 24 m wide) was created by cutting down the trees surrounding the buildings, in order to prevent the fire from reaching the buildings in the event of a forest fire.

---

Fire Protection for the Central Control Room (Scheduled to be completed within FY 2017)
Expansion of functions for fire detection and extinguishing (increase in detectors and extinguishing equipment)
Addition of measures to mitigate the effects of fire (fire-resistant barriers, fireproofing of cables)
---

Command & Control Area Built Adjacent to Building for Emergency Measures (Operation started in April of 2016)
The command & control area was built adjacent to the building for emergency measures. The command & control area has even higher shielding performance, aseismic performance, and protection against fire than the building for emergency measures.

---

Installation of Fresh Water Storage Tanks (Completed in October of 2016)
Two fresh water storage tanks with high earthquake resistance were installed to serve as water sources to supply water to reactors and spent fuel storage pools.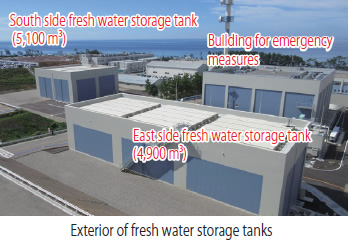 ---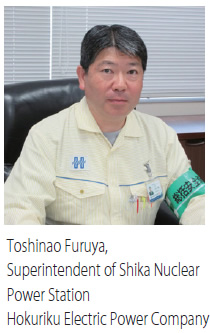 We put the highest priority on safety in operating Shika Nuclear Power Station, and take all safety measures with a firm determination to prevent any accidents like the one that occurred at Fukushima Daiichi Nuclear Power Station from happening again.
At present, we are steadily proceeding with the installation of an underground light-oil storage tank and on construction work to provide safety measures for the alternative power-supply facilities and other equipment.
As for the incident in September of 2016, when rainwater entered the reactor building, we sincerely apologize for the trouble and anxiety that the situation caused. We strive to take proper measures to prevent an incident like that from happening again.
With even greater commitment and dedication, we pursue the world's highest level of safety, and implement safety measures in integrated cooperation with the employees of our company and partner companies working at Shika Nuclear Power Station, as the close-knit "Team Shika," in order to earn the trust of, and provide peace of mind to, the people in our local communities.