When the Electricity Does Not Turn on
1. When the power is off for your home only
Check the circuit breakers on the distribution board in your home first. You may be able to restore power by operating the breakers.
If any of the circuit breakers is turned off, turn all of them on after unplugging all electric appliances in use in your home.
If you are not able to restore power even after switching the circuit breakers on, please inquire the caretaker of your apartment or housing complex first.
Caution
Are you sure you are not using too much electricity at once?
The maximum amount of electricity consumption at any given time is pre-determined for each household. If your circuit breaker trips frequently, you are advised to consult the caretaker of your home.
2. When the power is out in your entire neighborhood
A power failure may have occurred due to a natural disaster (forced outage) or electrical works (power stoppage for work). Please switch off all electric appliances in use and wait for the power to turn back on.
If you need to contact us urgently, please call us at the number below with someone who speaks Japanese. Hokuriku Electric Network Service Center: 0120-837119
---
Distribution board
The distribution board distributes the electricity delivered to your home to different rooms in your house. It also assumes other important functions such as shutting off the electric current when you use too much electricity and preventing electric leakage accidents.
Make sure to check the location and mechanism of the distribution board in your home as a precaution against emergencies.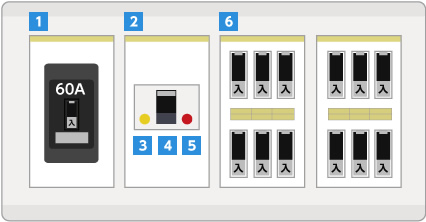 1) Breaker for contracted ampere capacity
The electric current (ampere) that you can use at a given time is determined by the contract we have signed with you. The breaker is automatically activated when the electric current exceeds the contracted ampere capacity.
2) Earth leakage breaker
The earth leakage breaker instantly detects any electric leakage caused by malfunction of wiring or electric appliances in your home and automatically shuts down electricity to prevent electric shock accidents and fire.
3) Leakage indicator button
4) Switch
When there is a leakage indicator button ... -> Press the button and flip the switch upward.
When there is no leakage indicator button ... -> Flip the switch upward after pressing it downward.
When the switch falls back down after flipping it upward ... -> Contact our company.
5) Test button
When activated, the test button produces conditions identical to leakage to check if the breaker functions normally.
6) Circuit breaker
Electrical wiring distributes power to different rooms or sections because there are limits to the amount of electricity that can flow safely. The molded case circuit breaker works to protect the safety of the individual electrical wiring.