Efforts for improvement of the capability to respond to natural disasters, etc.
Preparation for natural disasters, etc.
Accident prevention through cutting down trees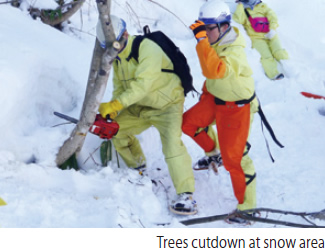 In order to prevent trees from contacting with or falling down on power distribution and transmission lines due to snow accretion and high wind, we cut down trees in cooperation with land owners.
Measures against snow, lightning and bird hazard to transmission line
We reinforce our facilitates and equipment in a well-planned manner such as installation of interphase spacers to prevent snow hazard to transmission line, installation of lightning protection systems to prevent lightning hazard, installation of bird hazard prevention devices and others.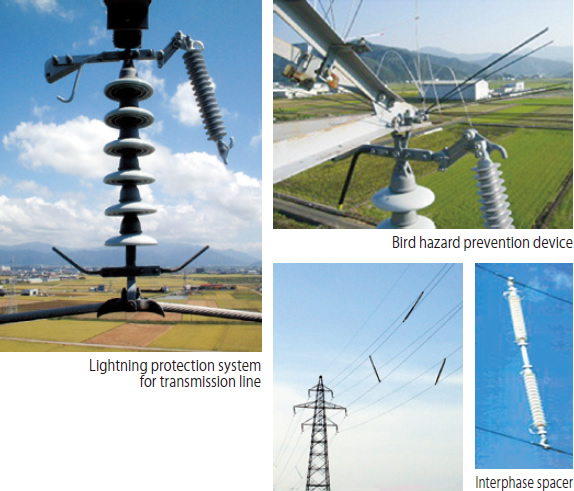 Implementation of company-wide disaster prevention training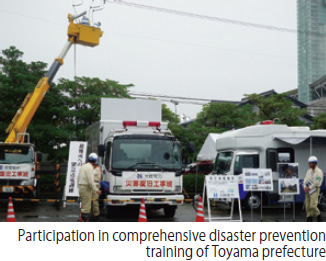 We conduct the company-wide disaster prevention training every year to properly respond to emergency disasters in an integrated manner.
In addition, we take part in disaster prevention trainings conducted by the respective municipalities concerned to implement trainings for recovery from large-scale disasters and to strive to reinforce the coordination with such municipalities as a utility service provider.
Response to natural disasters
When a power outage accident occurs because of natural disasters, Hokuriku Electric Power Group puts all its efforts into quick recovery from the accident.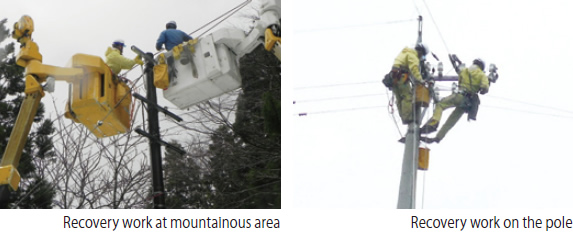 Implementation of practical trainings
With an aim to promptly and properly respond to natural disasters, we conduct practical trainings for recovery from power outage accidents in various cases.